Allo describing their DigiOne:
"What we achieved, in our opinion and based on public measurements, is the best (SP/DIF digital audio) transport at any price point (yes, even when compared with 5k USD/EUR transports)."
Okay - after that you are really thinking: Arrogant marketing pitch. How can something the size of a credit card on an ultra-budget-priced computing-system designed for schoolchildren sound like proper audio?
Well I have been more than pleasantly surprised several times so far during my journey with Raspberry Pi and various attributes. The HifiBerry Digi+ card roundly trounced the popular Sonos Connect in audio terms, then HifiBerry came with the improved Digi+ PRO with double clocking chips. I thought that to be pretty well the ultimate in what this approach could do and ordered the Allo DigiOne as a bit of fun, not expecting there to be much difference.
It seems that the trick with digital audio lies in the timing of data streams. The more precisely the data can be synchronised and passed on to the DAC (Digital to Analogue Converter), the more accurately can the sonic waveform signal be created and the better your SQ is. So the engineers at Allo have packed their board with clocking chips and ensured that the circuitry is completely isolated from the electronically noisy environment of the Pi board. That enemy of good sound, Jitter (desynchronising of the bit-stream) is almost totally eliminated. Impressive - on paper.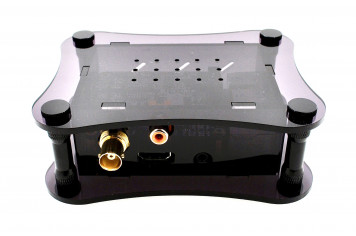 As with most Pi products - assembling the players in kit form is a half-hours fiddly fun and cursing when you find out you've done it wrong! But at last you come out with something that can be placed into a stereo rig. To provide for a direct comparison with the Pi / Digi+ PRO combo I hooked the Allo player up with the Musette DAC using the same Tomanek PSU, Profigold OCC cable and 2 AQ Jitterbugs (have to check if they are still needed - another time). Running the same Volumio OS, which just had to switch over the software from one I2S board to another, and we're ready to roll.
Ulp! did I think this would be comparable to the Digi+ PRO? No, it kicks it into the dust and leaves it standing. For the first time in this system it is as if the instruments and sounds become tactile - you can almost reach out and grab them they appear so solid. Accuracy is bizarre, detail phenomenal (help - I'm running out of adjectives here!), bass is rich, deep and tight, imaging razor-sharp.
Having never experienced a 5k streaming device I have no idea what it does, but this little player sounds like one. If there's anything better on the planet then just show it to me. Anyone looking for a network player - you owe it to yourself to try out the Allo DigiOne / Pi transport before you waste your hard-earned on something far more expensive and far less enjoyable.